English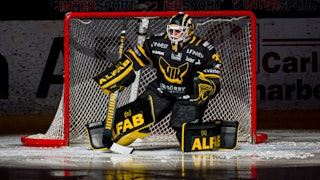 Welcome to the Västerås Ice Hockey Club's (VIK) website.

History
The club was founded for other sports all the way back in 1913, and in 1939 they also started playing ice hockey.
Historically, the Västerås Ice Hockey Club's men's team has played in the highest league in the country for many seasons. The high point was season 92/93, when the Västerås Ice Hockey Club won the regular season.
The Västerås Ice Hockey Club has trained many great hockey players over the years. Most famous is Nicklas Lidström, who was named best defender in the world on seven occasions and took home four Stanley Cups with the Detroit Red Wings.
Has also won both Olympic gold medals and World Cup gold medals.
Other famous players who have come up in the Västerås Ice Hockey Club are Tommy Salo, Patrik Juhlin, Peter Popovic, Leif Rohlin, Mikael Backlund, Patrik Berglund and Dennis Rasmussen.
The club today.
The Västerås Ice Hockey Club is one of Sweden's largest ice hockey associations with about 800 active players and 250 leaders.
Our home is in the Rocklunda area in the heart of Västerås. Here you will find ABB Arena Nord, where the office is located and the elite teams play matches. You will also find Mimerhallen and the Moonlight Rink here. These are three ice rinks where we have activities, but we are also found in other places in Västerås.
The Västerås Ice Hockey Club currently has 35 teams in league games divided into 17 age groups in the association. The senior team on the women's side plays in division 1.
Become part of the Västerås Ice Hockey Club
In ABB Arena Nord, our youngest beginners also get their first skates in yellow-black colours.
All children from the age of five and up who want to try ice hockey are welcome to come to Skridskoskolan, which the Västerås Ice Hockey Club starts in October every year.

The men's team plays in HockeyAllsvenskan, the second-highest series in the country. Västerås, and all of Västmanland, is the biggest team in terms of audience and interest. Last season, the Västerås Ice Hockey Club had an average audience of just over 3,200 people at the home matches in ABB Arena Nord, which can accommodate almost 5,000 people.

Contact information
We would love to welcome you to the club.
Whether your children want to start ice hockey or you want to go to the first team matches, please contact us for help.
We welcome any questions, just email [email protected] (Write in Swedish or English).